Sea logistics
To engaged in the freight forwarder business link main ports in China and the whole world.
To offer LCL transportation, book space, customs clearance,commodity inspection, trucking and door to door service.
Cargo trace of the import and export sea logistics, to ensure the information of cargo passed to clients.
International Logistics Network: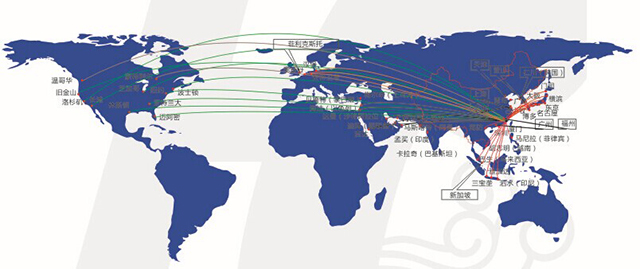 Air transportation
Qualification: First-class air transportation sale agent approved by the Civil Aviation Administration of China. (Business approval number:HD32515)
Speedy, safe and low-cost.
To give customers air transportation export customs clearance, transit customs, commodity inspection and Airport ground handling service.
To offer fresh aquatic food, clothing, special commodity and goods in bond logistics service.
To offer customers real time information trace and feedback service.
Warehouse service
To provide warehouse handling, cargo handling, the right of goods control, stock control, Sample sending and other warehouse service.
To manage stowage, packing, sorting, label and mark brush, temperature and humidity control, cargo secured, and distribution.
Import and export goods LCL and FCL.
Advanced warehouse management information system to satisfy customer's requirement to cargo real time trucking.