XIAMEN REALJET INTERNATIONAL LOGISTICS CO.,LTD
Contact Us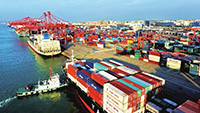 ADD: 21D, Yinlong Building,No. 258, Dongdu Road,Huli District., Xiamen, Fujian, China(Mainland)
TEL:0592-5619080 (Tina Huang)
FAX: 0592-5619070
WEBSITE: www.realjet.com.cn
EMAIL: tina@realjet.com.cn
P.O.C: 361000
Featured Service
We offer professional service in China Pick up your goods from different suppliers and consolidate them into one shipment to save your expense.
Conceal true identity to protect your business secret from supplier and buyer.
Clear customs for your goods and deliver to designated places by our worldwide partners.
Help inspect the products and check the suppliers' credit in China.